Connect your Modbus TCP plants to Rilheva IIoT Platform
in just a few clicks
Modbus TCP ease of use and VPN reliability
Modbus is a data communicating protocol initially published in 1979 by Modicon to be used with their PLC devices
It has become a de-facto standard in industrial communication and is currently one of the most popular communication protocols in the world among industrial electronic devices.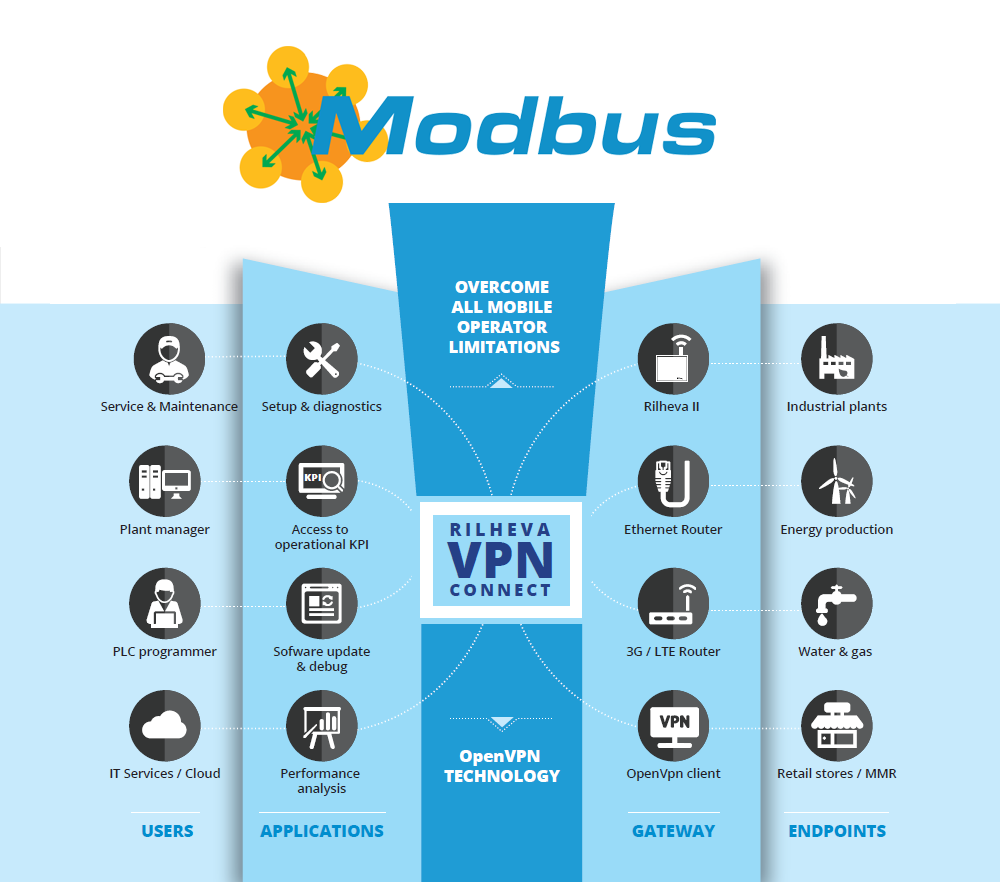 MODBUS: how does it work?
Does your plant/process/equipment use Modbus TCP?
Rilheva provides a Modbus TCP service that manages unlimited simultaneous connections, bidirectional communications to send commands reliably, granting an infinity scale.
By using a VPN channel (provided  by company IT or by a commercial VPN router), you can directly and securely transmit data to Rilheva using Rilheva VPN Connect Cloud service.
You can download Open VPN client setting directly from Rilheva or we can provide you a ready-to-use router.

Infinite devices use Modbus, even in your company there are several, for sure!
Here are some examples of the most widespread VPN routers to connect your devices
Tons of industrial devices use Modbus
We have developed a free Modbus TCP software to assist you during the testing process.
Main benefits:
Low cost:


Modbus is available on most of industrial electronic devices, even on the cheapest ones

Easy to install:


Just connect ethernet cable to send data

Easy to set up:


Install VPN service on the gateway and the signal list is added to the Rilheva portal, by using templates you can streamline the process

Remote access:


By using the VPN channel you can directly connect your PC to connected devices